2020 Awards Program, Dinner and Gala Opportunities
June 8, 2020 – Beginning at 3:45 pm – Library of Congress
Contributor Status
$17,500
Two Reservations to the Awards Program
Two Reservations to the Reception
Two Reservations to the Dinner
Two Reservations to the Gala Performance*
Full Page Color Ad in the Tribute Journal
[Downstairs seating to the performance is only guaranteed to Gold and Platinum tables]
Silver Status
$22,000
Four Reservations to the Awards Program
Four Reservations to the Reception
Four Reservations to the Dinner
Four Reservations to the Gala Performance*
Full Page Color Ad in the Tribute Journal
[Downstairs seating to the performance is only guaranteed to Gold and Platinum tables]
Elite Status
$29,000
Six Reservations to the Awards Program
Six Reservations to the Reception
Six Reservations to the Dinner
Six Reservations to the Gala Performance*
Full Page Color Ad in the Tribute Journal
[Downstairs seating to the performance is only guaranteed to Gold and Platinum tables]
Gold Status
$37,500
Eight Reservations to the Awards Program
Eight Reservations to the Reception
Table of Eight Reservations for the Dinner
Eight Reservations to the Gala Performance*
Newsletter with updates on the Burton Foundation
Full Page Color Ad in the Tribute Journal
Full Page Color Ad in the Legends in Law Luncheon Program if a Legend in Law Winner is Supported
Platinum Status
$48,500
Eight Reservations for the Awards Program in a Premium Location
​Eight Reservations to the Reception
Table of Eight Reservations for the Dinner in a Premium Location
Eight Orchestra Reservations to the Gala Performance Guaranteed
Four Tickets to the Legends in Law Luncheon
Four Reservations to the Green Room before the Awards Program
Four Reservations to the After Party
Newsletter with updates on the Burton Foundation
Premium Full Page Color Ad in the Tribute Journal
Premium Full Page Color Ad in the Legends in Law Luncheon Program
2020 Legends in Law Luncheon
Individual Reservations and Ads for the Legends in Law Luncheon
$2,500 per reservation
$500 per guest if a table has been purchased to the Gala
$5,000 per Ad in the Legends in Law Luncheon Program. Free with purchase of a Gold or Platinum table.
Please note: Reservations are purchased on a first-come, first-serve basis. The Member's Room has limited seating and is certain to be sold out. Reservations to the luncheon may be limited to each Legend in Law.
2020 Burton Awards Tribute Ad
Tribute Ad
A full page color ad in the Tribute Journal in Support of a Winner.
$11,500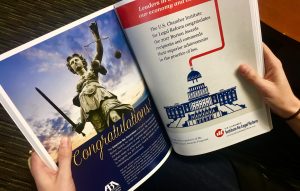 2020 Individual Reservations
Individual Reservations**
$6,750
One Reservation to the Awards Program
One Reservation to the Reception
One Reservation to the Dinner
One Reservation to the Gala Performance *
*Guaranteed downstairs seating to the performance will be given to Gold and Platinum tables.
**To all events except the Legends in Law Luncheon
A 20% increase in price will be added to all orders requested after Friday, April 17, 2020.
All orders are on a first come, first serve basis and the event may be sold out.